the hidden treasures of venice and rome tour
1 - 13 October 2019
A 13 day tour of the lesser known collections, palazzi and districts of venice and rome.

Tour Overview
Tour Information
Download Documents
Tour Overview
It is significant that the most Serene Republic of Venice and Ancient Rome were the destinations of the 18th century English Grand Tourists searching for the grandeur of the ancient world, the sophistication of the Renaissance and the theatre of the Baroque. It is in these two cities that the tapestry of Western civilization can be endlessly unravelled. However few have time to discover the treasures of the smaller churches, tiny canals, little known collections and the stories they tell of districts that have all but disappeared.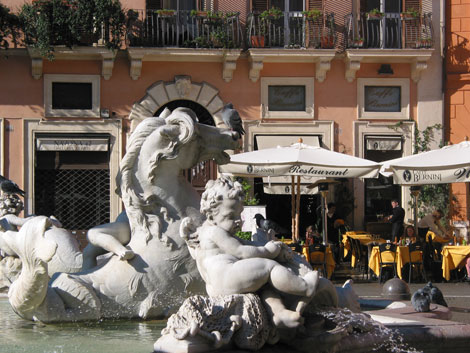 Travels Through Time will take a small group of up to 20 people to gain an intimate insiders view of these less visited marvels of Venice and of Rome.
In Rome we will explore how the city had been used as a gigantic film set from the time of the Roman Emperors, through the Popes of the Renaissance and Baroque periods to Mussolini. We will descend the four levels of San Clemente, interpret the early Christian mosaics in Santa Prassede, decipher the frescos of Santo Stefano and meander through the little lanes of Trastevere to Santa Cecilia. We will have private tours of the Farnese Gallery, the Doria Pamphili, Borghese and Capitoline collections and will visit small architectural gems by Bernini and Borromini.
In Venice we will discover little–known masterpieces in the small churches and chapels in the back canals, from the Campo San Giacomo dell'Orio to San Nicolo dei Mendicoli and the collections of the Palazzo Mocenigo and Ca Zenobio. One day will be spent on the islands that predate Venice and another exploring the Scuole that employed Tintoretto, Carpaccio and Veronese. We will also have access to the unique ospedali chapels where Vivaldi trained the female orphans for whom Venice became famous.
The tour will be led by Sylvia Sagona, who has been taking lecture tours to Europe for the past fifteen years.
Tour Price :
AUD $8990 - Land Content only based on twin / double room accommodation

AUD $2350 - Single room supplement (added to above price if non-sharing room accommodation is required)
Note : The above prices do not include airfares or transfers to and from airports. Meals, other than daily breakfasts and two dinners, are also not included.
Tour Price Includes:
12 nights accommodation in centrally–located 4 star hotels including daily breakfast
All museum and monument entrances
Two dinners in specially selected restaurants
Guided tours and lectures including a pre–tour lecture
Unlimited public transport on buses and underground in Rome
Unlimited Vaporetto transport in Venice and to the Lagoon islands
Travel by train between Venice and Rome

A tour brochure, itinerary booklet and an application form may be downloaded by clicking on the Download Documents tab above and then selecting the document you wish to download. If you would prefer to have any of these documents posted to you, please email us.
For more information about this tour please select the Tour Information tab above.
Tour Information
Accommodation
We will be staying at centrally-located 4 star hotels in both Venice and in Rome.
In Venice, the Hotel Giorgione will be our home for the first 6 nights of the tour. This charming and historic hotel is located in the Cannaregio district, away from the tourist hordes yet only 10 minutes from Saint Mark's Square.
Our hotel in Rome will be the Hotel Londra and Cargill. This hotel is in a quiet and safe part of Rome but only steps away from the Via Veneto and many of Rome's main attractions.
Daily continental breakfasts are included at both hotels.
Tour Organisation
The mornings will be devoted to walking tours visiting points of interest, churches and markets on the way. There will be a coffee (and pastry!) stop mid-morning as it is impossible to resist the allure of the little bars and the aroma of fresh coffee.
Daily after lunch there will be an early afternoon activity such as gallery and museum visits during the time that many shops and churches are closed. Life in Venice and Rome begins to gather intensity in the late afternoon and evening when tour members will be free to stroll, shop and sip an aperitivo in Rome or a Bellini in our local bar in Venice after meandering through the tiny lanes filled with beautiful products.
Shops and many churches remain open until 7:30 or 8:00 pm in both Venice and Rome.
A detailed itinerary listing all activities will be given to participants at a pre-tour briefing session.
In the event of particularly bad weather, strikes or unexpected closures of museums or monuments, the tour leader reserves the right to alter the programme to better suit conditions.
Language
The tour leader speaks Italian and will do all the interpreting and negotiating required for the running of the tour and for the well-being of the participants.
Level of Physical Activity
There will be a significant amount of walking and standing in churches, palaces and museums. In Venice there will be steps on the bridges over the Canals. Public transport will be taken in the form of vaporetto, buses, train and metro in Rome.
In fairness to all tour participants, the tour leader may advise certain paricipants, whom the tour leader believes may struggle to keep up with the group for general fitness reasons, to not participate in certain excursions which are more physically demanding.
Tour participants are advised to wear comfortable walking shoes that grip well, especially on the cobblestones that we will encounter in both Rome and Venice. The programme for most days involves a reasonable amount of walking .
Tour members should beware of pick pockets, especially in the buses in Rome and on the Vaporetto in Venice and at major tourist sites.
Meals
Full breakfasts are included in each hotel. Welcome and farewell dinners at specially selected restaurants are included with this tour.
Weather
The average maximum temperature in Venice in October is generally in the high-teens while in Rome it is in the low-20's. Evenings can be very cool and so layered clothing would be a good idea with a heavier sweater or jacket on hand in case of a cooler period.
Insurance
Tour participants must take out their own private Travel and Health cover.
Not Included in the Tour Price
Meals and beverages other than daily breakfasts and two organised group dinners
Entertainment such as cinema, opera, concerts and theatre
Entry to special exhibitions at museums where the permanent collection is visited
Headphones for museums other than those included in the entry fee
Fines incurred by tour members not presenting transport tickets when required by officials
Entry tickets for museums when the tour member has lost or forgotten their special group entry ticket
Emergencies
The tour leader will also be contactable at all times on a mobile phone.
Download Documents
This page lists the tour documents which you can download and save on your computer or print directly on your own printer.
Alternatively, if more convenient please email us with your postal address and we will mail the documents to you.
Please click on the document you wish to download. The document will open a new window or tab in your browser.
If you require further information about this tour please email us.