Cultural Studies
Water under the Bridge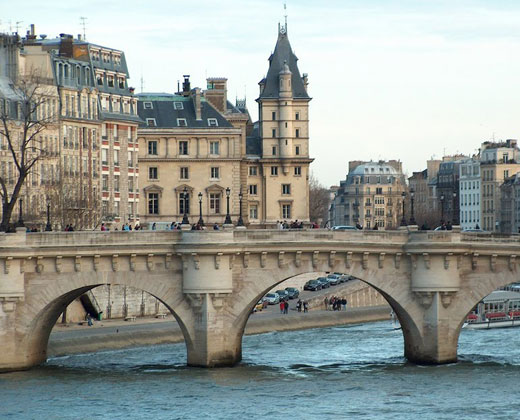 Overview of Lecture Series
If the Eiffel tower is now the icon of Paris, it was one of its "flock", a bridge, the Pont Neuf, which made Paris the world's first tourist attraction when it opened in 1607. But long before Paris became a modern Renaissance city under Henri IV, bridges had been an essential element of its creation. They marked not just the ever increasing expansion of the city from the time when the Romans burned the first wooden bridge constructed by the Parisii, but the way Paris would present itself to the world.
Bridges were used for sensational theatrical ceremonies celebrating everything from royal births, coronation routes and military victories to executions and revolutions. They advertised French engineering and new ideas about urbanism and commerce. Their positions were politically calculated and their names read like a roll call of French literature, art and history. They are celebrated in paintings, poetry, song and film.
There really is no better way to explore the history of Paris and its rulers than by studying the rise and fall of its thirty seven bridges from 52 AD to the present moment.

For more information and session details, please download the Lecture Series brochure from the Downloads section below.
Presenter
Sylvia Sagona
Session Dates
Stream 1 : Tuesdays: 10:30 - 12:00 noon - February 23, March 1, 2016

Stream 2 : Wednesdays: 10:30 - 12:00 noon - February 24, March 2, 2016
Price
$90 for 2 lectures in the series (incl GST)
Venue
Alloarmo, 5 Grattan Street, Hawthorn. VIC
Bookings
Reservations are essential as seats are limited. To reserve a seat at this lecture series, please download a booking form below and send it with your payment.
Downloads
Click here to download the Series Brochure
Click here to download the Booking Form